It's that time of year again.
Christmas is looming. The ads are back. The nights are getting longer. And, the year is drawing to close.
This means taking a closer look at the content trends that are likely to shape 2021.
2020 has been challenging but, with vaccinations on the horizon, hope and change are in the air.
That doesn't mean the year of lockdowns won't leave a lasting impact though.
Online is THE place to be
COVID-19 has shaken us, stirred us and kept us at home.
The result? A huge percentage of sales have moved online. Including a dizzying 31.8% increase between Q1 & Q2 2020 in the US.
It goes without saying that it's hard to compete if you don't have a website or social media presence.
As consumers become more web-savvy, they expect to find what they need and fast. Structuring your content into problems and solutions or questions and answers will go a long way to meet this growing expectation.
And will get you better ranked by Google into the bargain!
SEO questions & answers
That brings me on to SEO.
The rules governing Google's algorithms are always on the go.
So, the best strategy for keeping ahead is to keep your content relevant, interesting and easy to read & share.
As previously mentioned, it's also a good idea to offer solutions or answers to common customer questions relating to your product, service or area of expertise.
That way, you might make it to featured snippet. The new holy grail of SEO. This highlight box shows up at the top of the results page and is designed to offer an instant click-free solution to your query. Like this one when I typed in "what is a featured snippet?"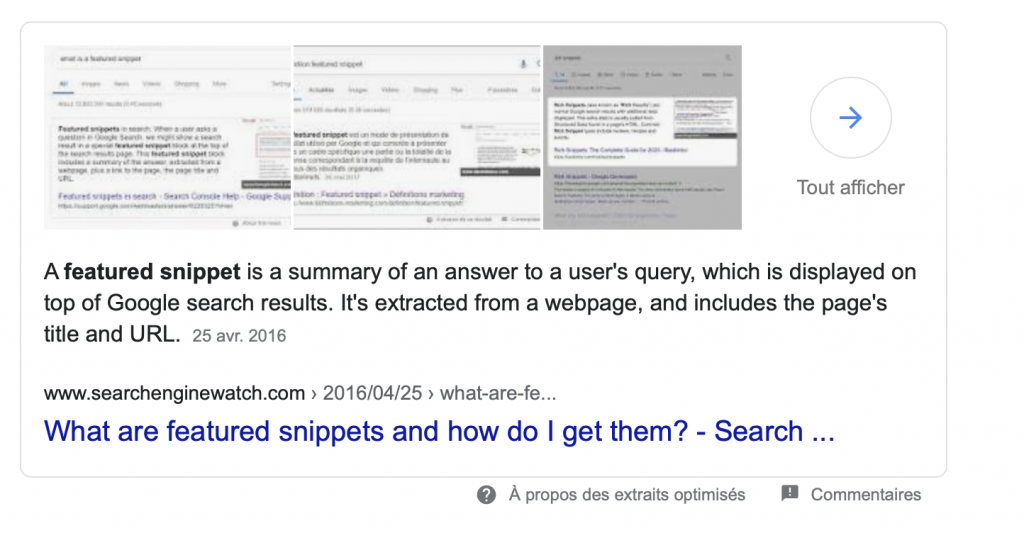 This piece of content is highly likely to hog the limelight and get the lion's share of clicks. This means that answering questions like how, why and who is even more important than ever.
Why not add a summary of your findings and solutions somewhere in your content to further whet Google's appetite?
P is for Podcasting
Even before 2020, podcasts were on the up. And up!
This format adapts effortlessly to our lifestyles. When we're on the move, it accompanies us everywhere we go. And when we are stuck at home, it remains our loyal friend – even when we have housework to do.
There are currently over 1.5 million active podcasts out there. And 34 million podcast episodes.
And the numbers just keep growing.
2020 has seen the rise of event podcasts. Given that large gatherings and events are still off the cards, this format is likely to come into its own in 2021.
Looking for a podcast hosting site? Here are some of the best ones.
Find your voice
Voice search is big and getting bigger.
If you're looking for a few statistics to back up this claim.
60% of smartphone users have tried voice search at least once in the past 12 months.
Voice-based shopping is expected to jump to $40 billion in 2022.
AND more than 20% of voice search queries are triggered by a combination of only 25 keywords.
 What are they?
I've just given you the second one!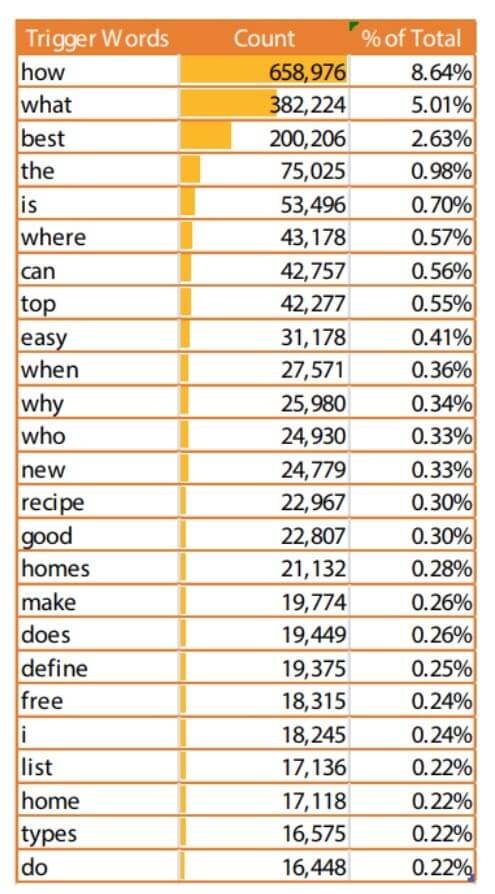 So, once again, think questions and answers in your content for top rankings. And, above all, conversations.
If you treat your texts like a dialogue, you will naturally include the kinds of questions, words and syntax people use for their voice searches.
A conversational tone is also easier to read and more personal. Why not take this a step further and develop a more distinctive tone of voice that reflects your brand's personality?
It's not all about you
User generated content still speaks volumes. And, is often far more powerful than branded content.
Whether customers sing your praise, share videos of themselves using your products or compare your services with the competition, it's all good for your brand.
You're being talked about. You're generating reactions. And connections.
And, yes, this also means toughening yourself up to negative comments. But as always, there's a silver lining. Constructive criticism is the best way to improve your product or services. Nothing is perfect after all.
So, the motto for 2021?

Be honest. Be transparent. Let customers have their say.
When social media embraces video – or vice versa
If social media is King. Video is queen.
Or is it the other way around?
During lockdown, social media flourished. And social video formats like Instagram Reels & TikTok quite literally soared.
Live streaming filled much of the gap left by the cancelling or postponing of so many "physical" events.
If you don't yet have a YouTube channel, what are you waiting for? Did I mention that more than 5 billion videos are viewed each day?
Why not organise a webinar? Or go live on Instagram and Facebook?
Tomorrow's technology… today!
There been a lot of talk about "futuristic" marketing trends like Augmented Reality and Virtual Reality for a while now.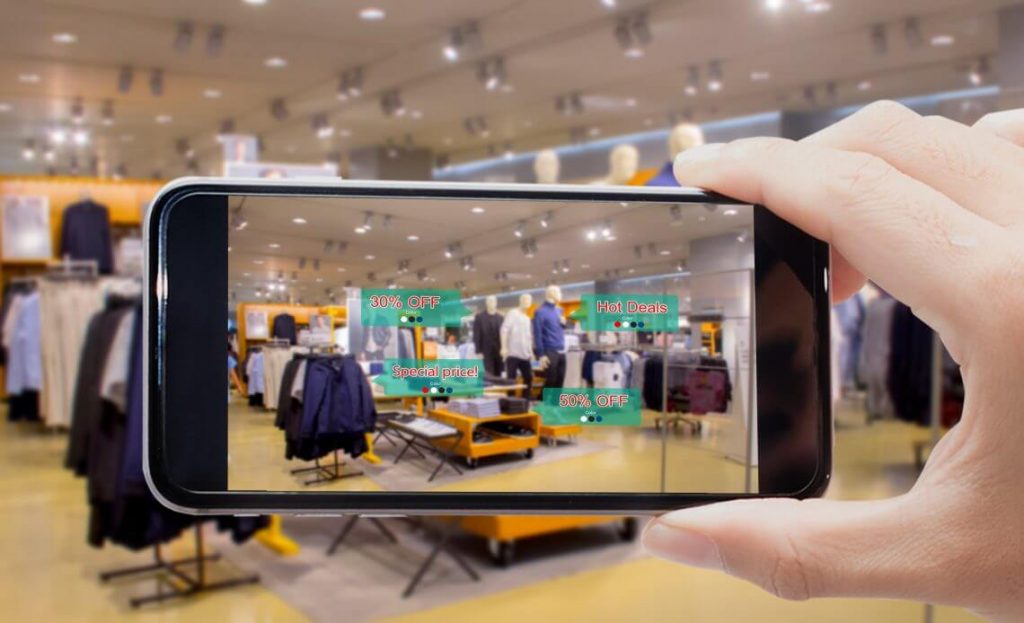 Will 2021 be THE year?
In 2020, and even before, some brands have already been harnessing the potential of AR to bring products (and the shopping experience) to life while in lockdown – including virtual "try-before-you-buy" experiences like previewing future in your home and digitally testing beauty products or trying on earrings.
Levi's has even created an online co-watching video app so you and your friends can shop together.
Given that hygiene concerns and physical distancing are likely to remain on top of menu next year, this trend is set to spiral.
And become more fun with gamification on the up. Digital store fronts and virtual closets where you can play, explore and shop with friends will also be shaping shopping in 2021.
Virtual catwalk shows are ever more sophisticated and immersive.
AR lenses and filters on platforms like Snapchat and Instagram are already the norm.
Could virtual goods become commodities?
The possibilities are endless!
What does this mean for content though?

If images are louder than words, experiences are deafening. Letting users and shoppers experience things firsthand is an incredibly power way to promote and sell any product or service.
Before I wrap off, here's a quick reminder.
What are the main content trends and tips for 2021?
Boost your digital presence
Answer user enquiries to hit the SEO sweet spot
Prioritise podcasts
Adapt your content & tone for voice search
Let customers have their say
Harness the video & social media combo
Embrace Virtual and Augmented Reality
What do you think? Do you have any other content trends you'd like to share? Let us know.Wha